Keto Made Simple
Crazy about keto? We are too!
A ketogenic diet is all about keeping carbs ultra low, burning fat and embracing optimal health. A keto diet can help to*:
Reduce inflammation
Maintain stable energy levels
Increase mental clarity
Manage blood sugar
Manage your weight
And the list goes on!
But for all its benefits, keto is not always so easy…
Let's be real. Following a ketogenic diet can be an uphill battle, requiring you to restrict your net carbohydrates to around 20-50 grams per day.
And if you're like most people, you're BUSY and always on the go!
But what if you could take a keto-friendly meal with you wherever you go?
What if you never had to worry about staying in ketosis come meal time because you ALWAYS had a delicious keto-friendly meal on hand?
Now that's all possible with Ample K.
We've taken all the great things about keto meals and developed a blend of premium fats, high-quality proteins, prebiotic fibers, organic greens, and probiotics for optimal ketogenic nutrition.
It's all packed up in a pre-portioned, easy-to-mix bottle to support your busy lifestyle.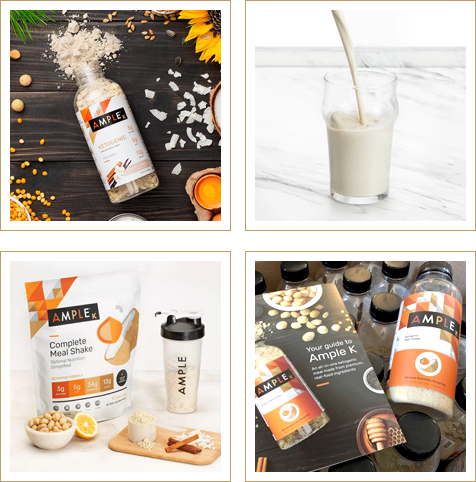 AMPLE K IS THE ULTIMATE MEAL REPLACEMENT SHAKE FOR KETO LIFESTYLES!

Just add water, cold brew coffee, or your favorite milk, give it a good shake, and voila! You have a great-tasting, keto-friendly meal in just 30 seconds!
Unlike other meal replacements, Ample K follows a carefully developed macronutrient ratio that keeps you in optimal, fat-burning mode - using only high-quality, real-food ingredients.
Following the guidance of Dr. Dom D'Agostino and the latest nutrition research, Ample K delivers the right amount of protein to support your metabolism and healthy muscle repair, while ensuring you stay in ketosis.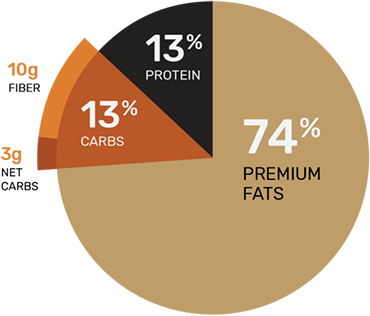 CHECK OUT WHAT KETO EXPERT THOMAS DELAUER SAYS ABOUT AMPLE K!
DRINK AN 'AMPLE A DAY' TO DO KETO THE EASY WAY!
KETO-FRIENDLY INGREDIENTS
Our advanced ketogenic macronutrient formula combines premium fats, protein, fiber, probiotics and key electrolytes to keep you in ketosis while delivering the nutrition you need to feel your best.
MCT-RICH FAT BLEND — Helps you to remain in ketosis and provides an immediate source of energy.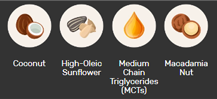 MODERATE PROTEIN TO SUSTAIN KETOSIS — Delivers the essential amino acids you need to support a healthy metabolism and muscle repair.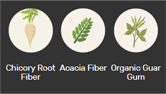 PROBIOTICS — With 6 potent bacillus, lactobacillus, and bifidobacterium strains, Ample K contains more than 4 billion CFU's to support a healthy gut microbiome.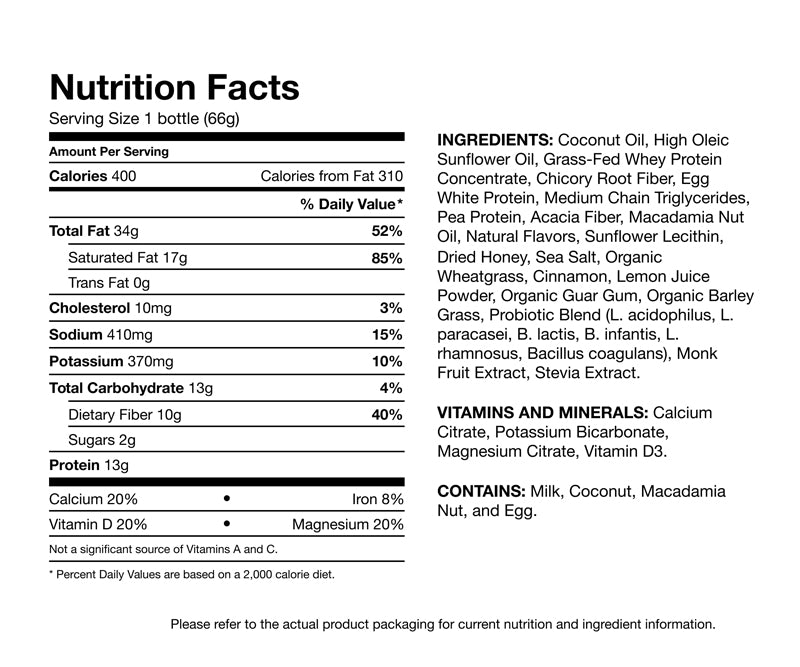 See Nutrition Facts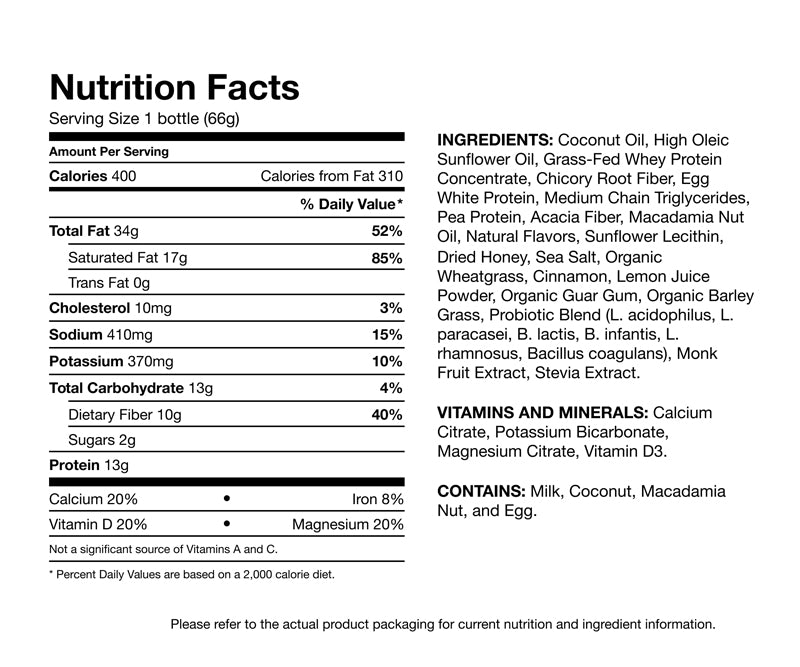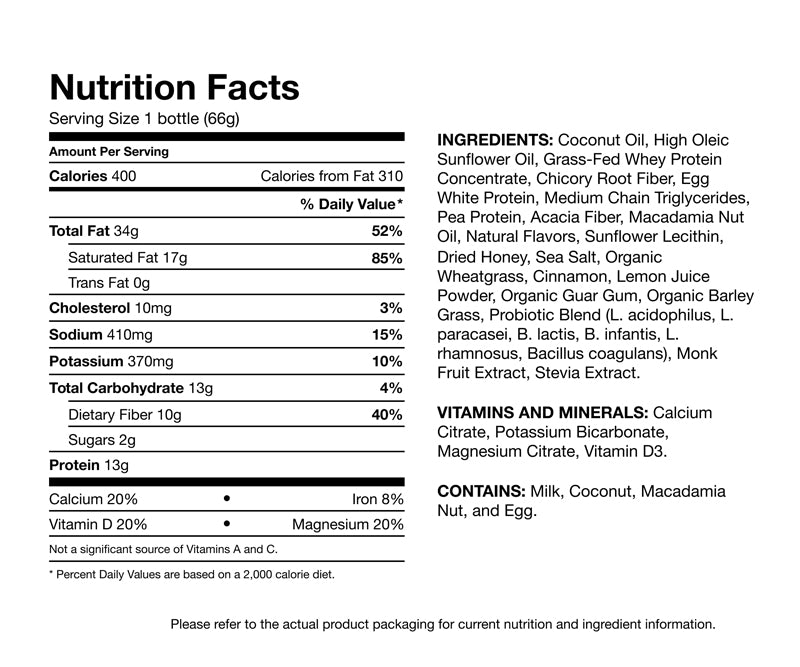 FIBER AND PREBIOTICS — Keeps you in ketosis while working in synergy with our probiotic blend for a healthier gut microbiome.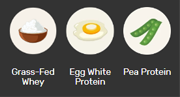 ORGANIC GREENS AND FRUIT — Natural sources of antioxidants and polyphenols for fighting free radicals.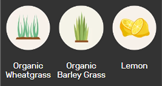 TARGETED ELECTROLYTES AND MACRONUTRIENTS — Ample K supplements key electrolytes so you feel great while adapting and maintaining ketosis.

GLUTEN-FREE

SOY-FREE

NO ARTIFICIAL SWEETENERS

NO ARTIFICIAL FLAVORS

NON_GMO

BPA-FREE

NO SUGAR ALCOHOLS
STEP INTO A TRUE KETO LIFESTYLE WITH

Both great tasting and good for you, our meal replacement shakes have a smooth, rich, nutty taste with hints of cinnamon and vanilla. We stand behind our delicious meal shakes made with the highest-quality ingredients available.
"Whole food is irreplaceable in my life, but I've found myself reaching for Ample instead of a morning smoothie or post-workout shake — or when I'm running out the door. It fills a need, and it fills it well."

John Durant
Author of New York Times Best-Seller, The Paleo Manifesto
"As a registered dietitian specializing in gut health, I'm always on the lookout for top-quality products that are free from fillers and artificial ingredients. Made entirely from real foods, Ample is the first meal replacement that I have felt comfortable recommending
to my clients as a convenient grab-and-go option!"

Tracey Grant
Registered Dietitian, Certified Wellness Health Coach
"Ample has quickly become a must-have meal for me every day. I use it after my morning training session, ensuring that I get the right macro and micro-nutrients, as well as probiotics, from high quality whole food sources. Personally speaking, and for our SEALFIT tribe, Ample is an invaluable contribution to the health food industry."

Mark Divine
Founder of SEALFIT and Author of Unbeatable Mind
Ample has been an awesome, quick alternative to otherwise unhealthy meals, either at home or when I'm traveling and staying in hotels.
Mike Krieger
Co-Founder, Instagram
JOIN AMPLE'S VIP PROGRAM TO GET 40% OFF YOUR FIRST AMPLE K SUBSCRIPTION ORDER!
When you go VIP, you'll enjoy the benefits of Ample K delivered to your door every month. It's a convenient way to get all the keto-friendly meals you need! And you can cancel ANYTIME for ANY REASON whatsoever!
| | Single Order | Elite Member |
| --- | --- | --- |
| Healthy recipes in your inbox | | |
| All the benefits of keto, on-the-go | | |
| Convenient monthly delivery | | |
| Ample sample 7-day keto meal plan | | |
| Bulletproof guide to staying in ketosis | | |
| VIP access to webinars with Connor and other industry professionals | | |
| Access to exclusive Ample events | | |
| Early access to new flavors & taste tests | | |
| Exclusive offers and seasonal discounts | | |
TRY US OUT BEFORE GOING VIP
12x Ample One-time Purchase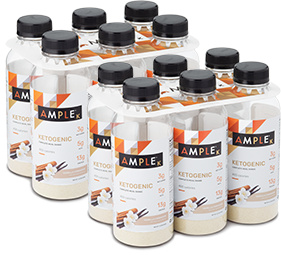 Total: $96.00
Per Meal: $8.00
GET A ONE-TIME DELIVERY OF AMPLE-K!
EXCLUSIVE DISCOUNT, CANCEL ANYTIME!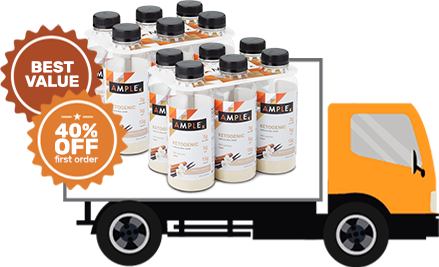 Total: $96.00$57.60
Per Meal: $8.00$4.80
YES! I want to become a VIP Member and save hundreds of dollars on keto meals plus exclusive bonuses!
"Ample spends more energy and thought on the quality of their formulas than any other company I've seen."
— Dom D'Agostino, PhD, Associate Professor, Department of Molecular Pharmacology and Physiology, USF Morsani College of Medicine

About Ample
"So many people feel challenged to incorporate healthy meals into their busy lives or even understand what is 'healthy.' Our goal is to offer optimal nutrition that's completely simplified."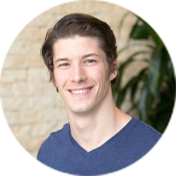 - Connor Young, Founder and CEO of Ample Foods
We believe that health, convenience, and great taste shouldn't be mutually exclusive. While most quick meal solutions are loaded with sugar, artificial sweeteners, and unbalanced nutrition, Ample provides an easy, real-food meal in a bottle to help you eat optimally on your busiest days or anytime you need a fast, healthy meal. After meticulous research into what makes a full, balanced meal, we developed three great-tasting meal replacement formulas that deliver the nutrition you need in a single portable bottle. Our three different blends are designed to keep you satisfied and feeling great—fueling your lifestyle, so you can do more of what you love. With Ample, you'll always have access to the nutrition your body needs, even when time is short.

Disclaimer
*These statements have not been evaluated by the Food and Drug Administration. This product is not intended to diagnose, treat, cure or prevent any disease.
"Statements on this website have not been evaluated by the Food and Drug Administration. Products are not intended to diagnose, treat, cure or prevent any disease. Review all product warnings prior to use." "Not intended to cure any disease". "Product is not scientifically proven with 2 double-blind randomized controlled tests".
The information provided on this site is for informational purposes only and is not intended as a substitute for advice from your physician or other health care professional or any information contained on or in any product label or packaging. You should not use the information on this site for diagnosis or treatment of any health problem or for prescription of any medication or other treatment. Always consult with a healthcare professional before starting any diet, exercise or supplementation program, before taking any medication, or if you have or suspect you might have a health problem. You should not stop taking any medication without first consulting your physician. Results featured on this web site are atypical. As individuals differ, so will results. Science Natural Supplements distributes a product line made with natural ingredients. Always check with your doctor for risks associated with dietary supplements and your specific health conditions and/or allergies.
Representations regarding the efficacy and safety of Turmeric have not been evaluated by the Food and Drug Administration. The FDA only evaluates foods and drugs, not supplements like these products. These products are not intended to diagnose, prevent, treat, or cure any disease. The product is not scientifically proven with 2 double-blind randomized controlled tests.
GUARANTEE
After you order any of our Products today, if you are not completely satisfied, simply contact me within the next half a year and send it back in any condition and I will see that you get a complete refund with no questions asked, no hassle whatsoever.
That's 180 days to experience the amazing future you've been reading about. If you are wondering why I am doing this the answer is simple. I believe in these products so much I am taking ALL THE RISK so you will start living healthier today.
References:
1https://pdfs.semanticscholar.org/8391/d9a6f9bc8de17805f21a9df542156802a898.pdf
2https://www.ncbi.nlm.nih.gov/pmc/articles/PMC3539293/
3https://www.ncbi.nlm.nih.gov/pmc/articles/PMC2835915/