Current Status: Anticipated Late November 2016 Ship
By Connor Young on
Happy Friday, team!
Last week, we celebrated the end of our first chapter with friends, family, investors, mentors, and advisors – many people who have supported us here in the Bay since the beginning… as well as some of you amazing backers! We bid farewell to our current small-scale, handmade-with-love-in-a-commercial-kitchen version of the product:
Thank you again for your support. Please check out this video from the event, and know that we wish each and every one of you could have joined us:
The Flavor Chronicles:
The last time we chatted via Facebook livestream, we were working on nailing the flavor profile, given the changes in our suppliers. We thought we had a winner after formulating an all-natural flavor in Chicago, but this flavor turned unexpectedly sour somewhere between sample-making and production. It was just plain bad!
Since shipping a poor tasting product is not an option, we went back to the formulation drawing board. This meant the new task was to find organic sources of natural flavors that tasted good, while still keeping our sugar levels to a minimum. After another week of iterative testing, we did just that, and are excited to have since finalized the manufacture-ready formulas for both Ample and Ample X!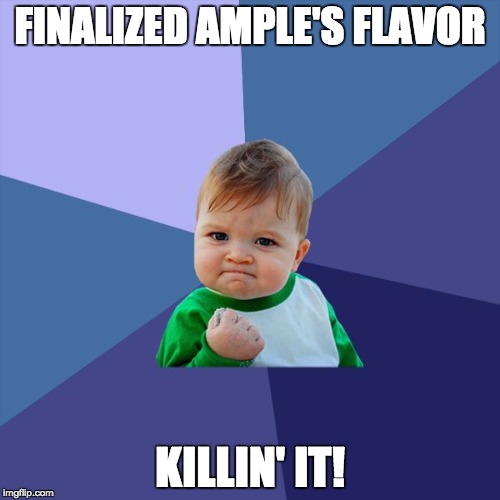 But because we had to reformulate the flavor, we had to order new material. Some of these ingredients, like high quality vanilla, have long lead times, so that means shipping is delayed.
However, we are excited to confirm that both Ample and Ample X will ship out at the same time!
Here is the new timeline:
Now until week of 10/17: waiting for remaining raw material to come in
Week of 10/24: making and approving the master samples with the new formulas, plus testing all raw material
Week of 10/31: preparing for production
Week of 11/7: blending takes place, followed by product being sent out for testing prior to bottling
Weeks of 11/14 and 11/21: filling, bottling, labeling, packaging
Week of 11/28: Ample moves to our fulfillment centers and ships out to you!
We're doing everything in our power to push this timeline and move it along as quickly as possible—we hope everyone will be able to give thanks for their Ample at the Thanksgiving table this year. In the meantime, we'll be bringing you more information as it becomes available. In the next broadcast, we'll be able to provide updated nutrition facts!
Other great things happening:
Customer service and community-building are of the utmost importance to the success of our company and the support we give to you. So we're pumped to announce we've found the perfect person to fill that role on Team Ample! We know she'll be legendary, and are excited to introduce her when she begins late October!
Connor, Julie and Rona will be traveling to a convention next week to scope out new potential suppliers and source new materials! Have no fear–we're not going to overturn this current formula and cause any further delays, but we'll be making amazing contacts with ingredient suppliers to massively level up our products in production runs to come.
← Older Post Newer Post →
---

0 comments
Recent Articles
CATEGORIES