Story
Why Ample had to be created.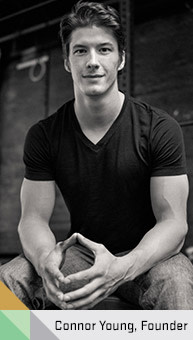 After I graduated with a biology degree and started a CrossFit gym in 2011, it was easy to maintain a healthy lifestyle. Nutrition was my passion, and I coached similar-minded people on health for a living. 
But then in 2014 when I moved to San Francisco and into healthcare entrepreneurship, my intention to eat healthily crashed into the grim reality of the startup lifestyle. Instantly, my free time vanished as I struggled to get my business off the ground.
I was living in a hacker house with 50 people. My housemates were starting new tech companies, conducting groundbreaking genetics research, and launching promising sales careers. But because of this, they were busy, and couldn't prioritize their health. 
They resorted to convenient snacks or the best hyped meal replacement drinks, powders, or bars without understanding the types and quality of ingredients, caloric makeup, and overall nutrition they were actually putting into their bodies.
I began taking my friends down the difficult path with nutrition lectures and cooking classes, but it was more than they could initially handle. My friend Jason just told me "Connor, don't give me more work to do. Just give me a solution." That's when the idea of Ample was born.